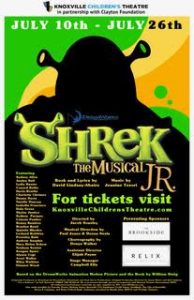 Knoxville Children's Theatre will present a live production of "Shrek The Musical, Jr." based on the Dreamworks animation motion picture and the book by William Steig. The production was originally produced on Broadway with book and lyrics by David Lindsay-Abaire and music by Jeanine Tesoro.
The live musical will be performed at the Knoxville Convention Center in the Lecture Hall from July 10 through July 26, Fridays at 7 PM, Saturdays at 1 PM and 5 PM, and Sundays at 3 PM and 7 PM. This production has been moved from KCT's auditorium to the Knoxville Convention Center to allow for social distancing. Tickets will be limited and masks will be required for entry. Groups and families will be seated distanced from each other.
In a faraway kingdom, the green ogre Shrek finds his swamp invaded by banished fairytale misfits, runaways who've been cast off by Lord Farquaad, a tiny terror with big ambitions. When Shrek sets off with a wise-cracking donkey to confront Lord Farquaad, he's handed a task – if he rescues feisty Princess Fiona from the Dragon-guarded tower, his swamp will be returned to him. But a fairy tale wouldn't be complete without unexpected twists and turns along the way. Shrek is a heartwarming, uplifting story to be enjoyed by all ages. We promise you will leave the theatre with a smile on your face.
The play is performed by 26 talented young actors, from ages 8 to 17. Keegan Spurr plays the title role of Shrek and Natalie Duncan plays Princess Fiona. Lord Farquaad is played by Quintin Rhodes, and Donkey is portrayed by Dale Gross. Alyssa Vogt will portray the Dragon, and Conard Belitz will play Pinocchio. Leeland Robbins and Braelyn Read will portray the younger Princess Fionas and Avert Waller will play Gingy.
The rest of the cast features veterans Sydney Allen, Lydia Baxter, Davis Bowlin, Charlotte Chrimes, Danny Davis, Isabella Francisco, Skylar Justice, Sydney Parman, Celeste Paultre, Pressley Rule, Mary Helen Schow, Graham Sexton, and Eleanor Wood. Ansley Ball, Benny Ramirez, Andrew Sarphie, and Riley Watkins will make their KCT debut with this production.
The show is directed by student intern Jacob Sousley with musical direction by Paul Jones and Deena Seals and choreography by Donya Walker. Elijah Payne is the assistant director and Samantha Owens provides the scenic design with Tanner White as scenic assistant. Alex Montgomery provides the lighting design with Ally Summie and August King as his assistants. KCT veteran Charlotte Stark will design and build the costumes with assistance from Olivia Rhea and Lauren Norton. The properties master for the production is Nico Ellerbusch with assistance by Cooper Delamain. The play's stage manager is Campbell Ella.
MADE POSSIBLE WITH SUPPORT FROM:
CLAYTON FOUNDATION
FIRSTBANK
HOLSTON GASES
KNOXVILLE TVA EMPLOYEES CREDIT UNION
CITY OF KNOXVILLE THE BROOKSIDE
KCT is East Tennessee's leading producer of plays for children and families