Back the first of September  Worthy Publishing a division of Hachette Book Group released The Mind of a Conservative Woman by Senator Marsha Blackburn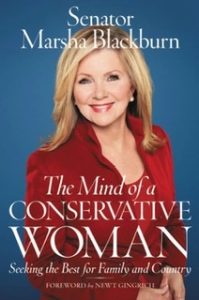 Over Thanksgiving I finished reading it. I recommend it to anyone that has any perceived opinions of Blackburn. She broke the glass ceiling in selling books door to door. She won the State Senate by challenging the status quo, good ole boys club. She stood for her convictions on a state income tax and won for the people of Tennessee.
In her 2018 election to the United States Senate, she endured the attacks of the left and of famous entertainer Taylor Swift. Blackburn broke the glass ceiling in 2018 to being elected the first woman to represent Tennessee in the United States Senate. In January 2021, she will become the Senior Senator of Tennessee.
This book will be a great Christmas gift for any Conservative on your list. Get it wherever you buy books.
#SPONSORED