Brittney Basham, daughter of Bruce and Donna Basham. She followed in her Moms career choice of being a public school educator.
Brittney was a teacher at Norwood Elementary School in North Knoxville as part of Knox County Schools.
On January 29, 2021, Brittney unexpectedly to us on earth received her Heavenly Reward, leaving all of us sad and missing her. Read her Obituary, here.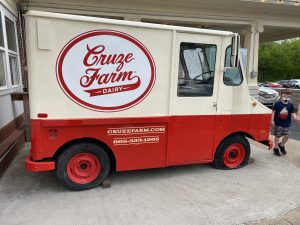 Thursday night April 29 at the Cruze Farm Pizza Barn gave a portion of their sales to the Brittney Basham Literacy Foundation at Norwood Elementary.
The wife and I went and did our part in eating garlic cheese bread, pizza and you can't leave Cruze Farm without some ice cream.
If you would like to help with the Literacy Fund at Norwood Elementary. You can send a contribution in Brittney's name to the Literacy Program at Norwood Elementary School, 1909 Merchant Drive, Knoxville, TN 37912.