Thanksgiving week, only three work days right? Well between the Knox County Law Department settling a lawsuit with former Knox County Parks and Rec. Director and the Knox County Sheriffs Office Facebook page reacting to an incident without the complete facts. It was more than enough for a whole week.
First it was Paul White, the former Knox County Parks and Rec. Director that was fired by Knox County Mayor Glenn Jacobs. White filed a lawsuit, probably a move that he could have suspected the law department would settle. Read CompassKnox for the details, here. (you need to be a subscriber of Compass, its worth it) If taking $100k and your Attorney getting paid while the story reports that you have a horrible management style and reports that your reason for hitting on a member of the opposite sex was because you popped an ED drug the night before, then I guess it was worth it.

Then there was the Knox County Sheriff's Department posting on Facebook about three employees being refused service at a local restaurant. Again, Compass Knox had this coverage in the daily emails, which you receive as part of your Compass subscription.
The reports are that the KCSD post was removed and replaced with another with Sheriff Spangler saying it was an isolated incident. The cashier's mother (also mother of Anthony Thompson, Jr. the young man murdered in the bathroom of Austin East High School) also posted on her Facebook with a different version. Ultimately, the 15 year old girl reportedly lost her job.
KCSO Communications Director and PIO Kimberly Glenn had posted on her Facebook page (below) the identity of three KCSD employees. I am told one is a detective, one is a Captain of the Reserve Unit. The Captain interestingly, I am told is not a graduate of the Reserve Academy.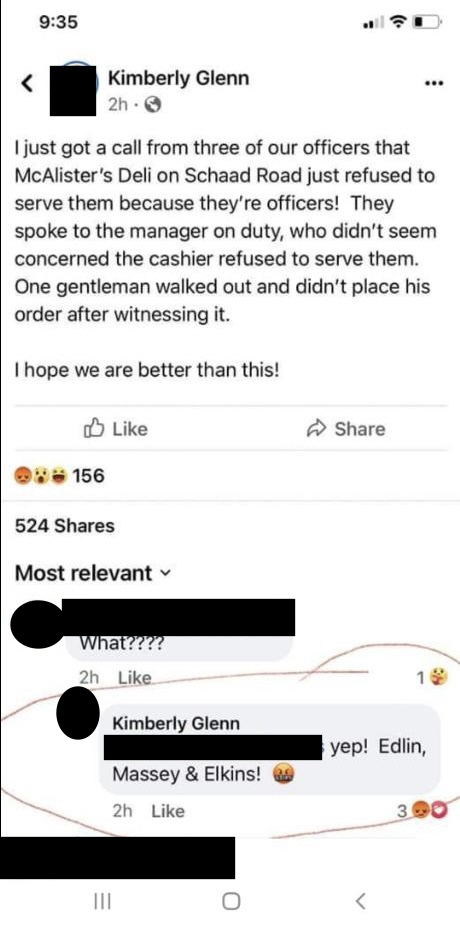 Were these three KCSD employees working for the county at the time? Someone has mentioned they may have been working a side job, not that it really matters.
What does matter is that only one person's version was taken for fact in the heat of the moment without getting all the facts that occured. This is not how police work is suppose to happen. The task is to gather all information and present the entirety of the who, what, when, where and why and then present the entire story. Much like bloggers. You must know all the story, in order to tell the story.

Let's hope this week is better for all involved and let's hope that young lady is able to get another job. A 15 year old working and going to school in this day and time is rare.