Knox County Commission must give 7 days notice before meeting to appoint the next Knox County Trustee to replace now Former Trustee John Duncan.
The appointment will be until September 1, 2014. A primary election will be held on May 6, 2014 and General Election on August 7, 2014 with the term beginning September 1, 2014.
Will Knox County Commission consider someone that will not be a 2014 candidate? Will Knox County Commission select one of their own? Current Property Assessor employee Craig Leuthold supposedly has an interest. County Commissioner Robert Lawrence Smith has indicated he would like to have the job. In my opinion, Former Trustee Fred Sisk would be a good place holder for the interim position.
A word from our Advertiser, Hampton Inn Downtown Knoxville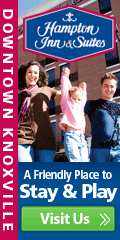 Click for more details.