Interesting that it seems no charter school application ever gets serious consideration from Knox County Schools, so why does it appear the Emerald Youth Foundation tracks are greased for an approval? Is it because Emerald Youth doing a better job of getting in front of the story and generating positive news? Maybe! Is it because two key Knox County School Officials have seats on the 2013 Board of Trustees for Emerald Youth Foundation? Check out the list here or look below.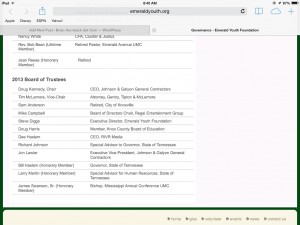 First, Sam Anderson Former City of Knoxville Schools teacher, Former 22 year Knox County School Board Member, Retired Director of Knoxville Parks and Recreation and current Sr. Advisor to High Need Schools, Check out the Central Office Directory online here or view the screen shot below.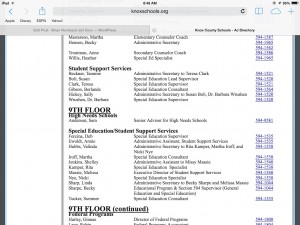 Second, School Board Member Doug Harris. He will be casting a vote either confirming or denying the Superintendent's recommendation to accept or reject the application. Harris who was elected two years ago, ran on the issue of charter schools, he has voted against every application presented since he has been on the board. Will he support this one? Will he be advised by the Knox Co Law Department that he must recuse himself from the vote?
Interesting!
UPDATE: School Board Member Doug Harris has responded via twitter. His response is below. If I did not make it clear, I apologize and let me make it clearer. Harris & Anderson are on the Board of the Emerald Youth Foundation. The Emerald Charter School has a separate Board. I guess the question has to be what money, resources, assets of Emerald Youth Foundation have/are/will be used for the School? Cari Gervin of Metro Pulse has informed me that she received and reported previously that Harris on record said that he will NOT vote on the Emerald Charter.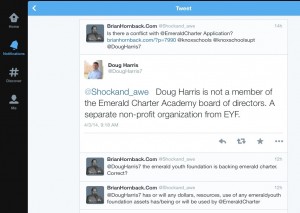 Be Wise, Advertise Here

Contact Us: 865-607-1108