This Tuesday October 24, 2017  Blessed in the Darkness by #1 New York Times Bestselling Author Joel Osteen releases  by FaithWords a Division of Hachette Book Group.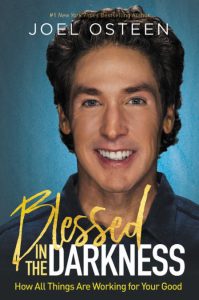 Osteen teaches in this book that the God that walks with us in the green pastures is also with us during the storms or what are called night seasons. Several people from the Bible were in night seasons. Of course Job immediately comes to mind, as Job traveled through the night season and was still committed to God he was rewarded with double of what he lost.
The night seasons we go though make us better as we stay focused on God. The enemy will feed us with lies, when we ignore them and allow God to use us we are in the night season, we break out to be used for a more purposeful use by God.
There is a study guide available with this book to assist small groups.