In the lawsuit that was filed a week ago this past Friday by 10 Knox County citizens and brought to the Knox County Commission on Monday by Mayor Glenn Jacobs for him to obtain his own legal counsel. Mayor Jacobs read out the names of the citizens at the Monday meeting. Commissioner Charlie Busler voted against the Mayor selecting his own legal counsel.
When the Mayor read out the plaintiff's names (at the Knox County Commission meeting on Monday) you would think the names Lloyd Peffer and Melissa Peffer would have triggered the memory of a Commissioner. I am told that Melissa Peffer is formally Melissa Busler. The son in law and daughter of Charlie Busler, Seventh District County Commissioner.
I have previously reported the names of John Fugate as a former candidate for Knox County Commission and the name of Shirley Smith as the Mother of former Circuit Court Clerk candidate Scott Smith.
From the Knox County Ethics Policy Section 2. Disclosure of personal interest in voting matters. An elected official or employee of Knox County with responsibility to vote on a measure shall disclose during the meeting at which the vote takes place, before any discussion or vote on the measure and so it appears in the Minutes, any personal interest that affects that would lead a reasonable person to infer that it affects the official's vote on the measure. In addition, said elected or employee shall recuse him/herself from the discussion and/or vote on the matter. This provision shall not be applicable to voting on measures for reappointment of districts or other measures that affect all members of the Knox County Commission.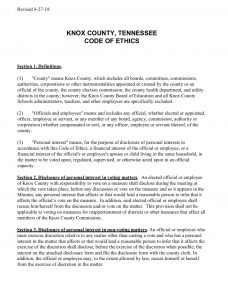 I am not saying in this post (or anywhere else) that Busler has violated the Knox County Ethics Policy. It is solely a question.