You may have noticed the picture of Florida United States Congressman Matt Gaetz, he is the Speaker for the annual Knox County Republican Party Lincoln Day Dinner.
The dinner is scheduled to be held on May 22, 2020 at Rothchild Catering and Conference Center at 8807 Kingston Pike in Knoxville, TN.
You can click on his picture and on the main page of #TheMegaBullhornofTruth to purchase your tickets NOW or click here.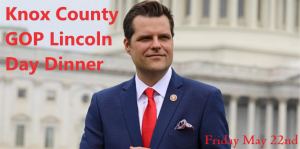 Gaetz is on Twitter, here