On Tuesday April 18, 2017 Dee Dee and Paul Sorvino through Center Street releases Pinot, Pasta and Parties.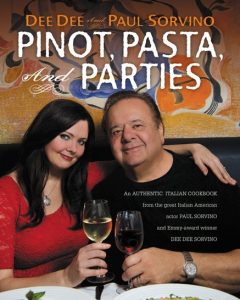 This is an Authentic Italian Cookbook from Paul, the great Italian American actor and Dee Dee , the Emmy Award winner.
The two first met on December 11, 2013 in a New York TV news show studio. After drinks that then turned into dinner with friends Paul and Dee Dee connected and the rest is history.
This is a fantastic cookbook that combines both of their personalities. Paul's personality as an Italian American that played Paul Cicero in Goodfellas, police chief Captain Edelson in Cruising and Sergeant Phil Cerreta on Law and Order. Dee Dee is an Emmy Award winning television host and radio personality. She has appeared on Fox News, Fox Business, CBS Morning Show and many others.