2017 marks the 125th anniversary of Tindell's Building Materials in Knoxville, TN to commerate this occasion, dedicated employees, valued suppliers and loyal customers at a special event on June 23, 2017 from 1-4:30 pm at the Truss Plant location at 2644 Byington Solway in Karns.
"We are celebrating both our legacy and our future." Said Carl Tindell.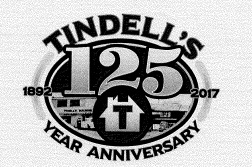 Tindell's is a family owned building materials supplier whose mission is "to provide consistently high quality products and services to our customers through innovation, efficiency and integrity" Founded in 1892 by Fate Tindell, the company started as a horse drawn, steam powered sawmill.