Ken Gross, the TN State Republican Executive Committeeman for State Senate District 7 served by Richard Briggs has officially entered the race for TN Second Congressional District.
We reported a week ago here (August 5, 2017) that Gross was likely to enter within a couple of weeks. He has since filed the paperwork and a more formal announcement will be forthcoming.
On his Facebook page he has posted what appears to be a logo or maybe even a prototype of what his signs may appear to look like.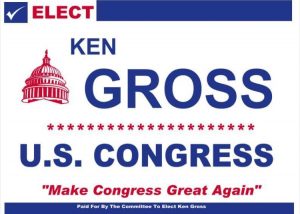 I have worked with Gross in the past, but nothing in the last several years. Here is a picture from the 2010 West Knoxville Republican Club July Picnic.