We are pleased for the third consecutive year of the five year history to work to promote The Taste of Turkey Creek.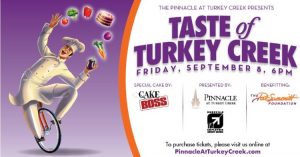 The Pinnacle at Turkey Creek and Knoxville TVA Employees Credit Union are proud to announce the 5th annual Taste of Turkey Creek benefiting The Pat Summitt Foundation.
Gates will open Friday, September 8th at 6PM. Attendees can expect to taste offerings from over two dozen local Knoxville restaurants. In addition to the restaurant showcase there will be wine, beer, live entertainment and a silent auction. Proceeds from the event benefit The Pat Summitt Foundation.