Do you remember the little girl "Tootie" from the sitcom "The Facts of Life"?
Well that little girl is Kim Fields and on Tuesday November 14, 2017, Faith Words a division of Hachette Book Group is releasing her book Blessed Life.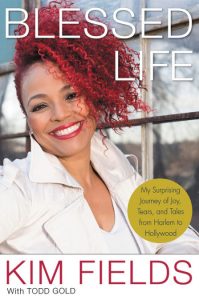 From her first job on a Mrs. Butterworth syrup commercial at age 7, to being "Tootie" on "The Facts of Life", to being Regine Hunter on the show "Living Single" to The Real Housewives of Atlanta and Dancing with the Stars. Fields intimate and Inspirational book Blessed Life provides a look into her captivating life, including a fun, nostalgic romp through her years on television. She details the people and events that shaped her life, while explaining the way get belief in God has made all the ups and downs a blessing.