On Tuesday November 14, 2017 Faith Words a Division of Hachette Book Group releases Divine Time Management. the Joy of trusting God's Loving Plans for You. 
Authored by Elizabeth Grace Saunders is the founder of Real Life E Time Coaching and Speaking. She's been featured on all network television channels and contributes to Forbes, Harvard Business Review and others. She has authored two other books, however this is her first inspirational book.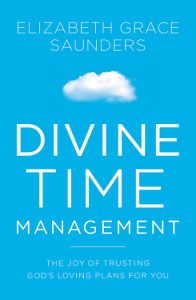 Divine Time Management offers you, a path to deeper intimacy with God centered on trust in him. An understanding of what God wants for your life. Biblical and personal encouragement to embrace your God given desires.