Whoever had 5 months in the pool for when will one of Mayor Jacobs employees embarrass  the administration won. Whoever had former State Rep Roger Kane as the one won double.
Another website (that has been a Mayor Jacobs antagonist since he took office) posted a story earlier this week with what Roger did, however, it was posted under a column titled gossip and lies. As you know #TheMegaBullhornofTruth likes the truth and on some rare occasion we will publish a source or a rumor, but rarely rely on gossip or lies. The News Sentinel use to have a similar column in it's Shopper publication.
But here's what I found.
I contacted Ms. Carly Harrington at the Knox County Schools Central Office yesterday and got the email that Mayor Jacobs employee sent to the school board.
Now, he does use a lot of lobbyist talk in the email. He was a State Rep for 6 years and probably can't easily shake the lingo. No one ever said that the former Rep. was the sharpest one in the crowd.
However, one would need to consult the law that the legislature crafted regarding lobbyist and lobbyist activity. Thanks to my friend James Corcoran, a 15 year experienced Attorney for easily knowing where this language is located in state law.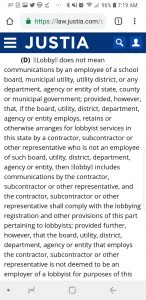 It seems that any employee of a governmental unit (insert Knox County Mayor's Office) is exempt. So, while many would like to use the educational liaison to hurt the County Mayor it is not likely gonna happen with this incident.
Do I believe that the educational liaison is on a shorter leash today than he was on Monday of this week? YEP.
Do I think that the educational liaison will be heading over to Nashville on Knox County's dime? NOPE, I don't believe he will.
That is my thoughts and you get it for what you paid for it.