Yesterday the Knox Ethics Committee met to reorganize, it was a tad painful to watch as it wasn't the first time a few of these folks, especially the Chairman had reorganized. The only business was the ethics complaint brought by citizen Mr. Casstevens on Commissioner Kyle Ward. With no new information submitted, the complaint was dismissed. Watch the less than 30 minute meeting here.
When asked for comment, Commissioner Ward replied, "I am glad Mr. Covington was able to manipulate the rookie journalist at the News Sentinel into building some name ID for him at my, and the taxpayers' expense. Maybe he will fare better in his next run for public office."
In addition to the articles on the alledged ethics violation. It reminded me of the daily paper writer Allie Fienberg story about Ward missing meetings in September and October without verifying what nearly everyone except the folks in "the big metal shed on the hill" knew and that was he was on a family vacation outside the USA and then was stricken with COVID.
Someone please explain to Miss. Allie the bHornback term "the big metal shed on the hill". The term is now in Knox folklore
In an article that was published online on October 18 (I don't see the newsprint version anymore). Apparently the journalism tact from a recently relocated to Knoxville from a mid western state is that Ward didn't reply to a text message and email from the day before publishing an article with negative tone and inflection.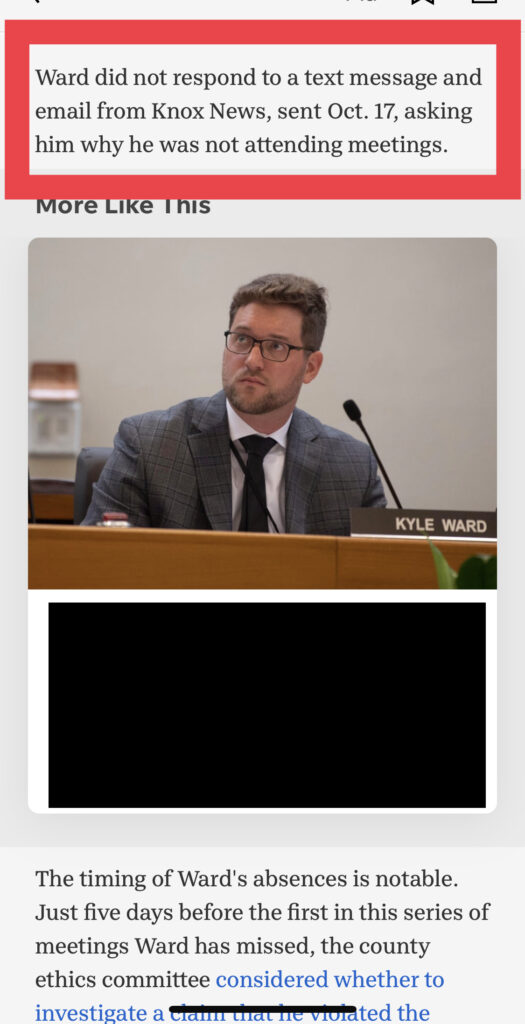 Here is hoping that Miss. Allie will begin looking into every elected official that misses meetings. Miss. Allie's colleague on the education beat can probably use some peer assistance from Allie with a member that has missed a great amount of time in recent years.