Cameron Brooks got 6,749 votes or 43.20% while Knoxville City Councilwoman Lynne Fugate received 7,188 or 46.01% Darin Worsham received 1,685 votes or 10.79% of the August 29, 2023 Primary Election. Fugate and Brooks advanced to the November 7, 2023 General Election. Unfortunately, Brooks passed away September 1, 2023, read his obituary here.
This post is being published on the eve of his 46th birthday. His 46th birthday is November 17, 2023.
Fugate was on the November 7, 2023 General Election ballot without an opponent, the Early Voting ran October 18 – November 2, 2023. Fugate received 11,236 votes. I will note that Fugate suspended her campaign in respect to Brooks and his passing. There were 923 write-in images for the at Large Seat A position. 72 of the 124 pages received by me were the write in votes for at Large Seat A.
Cameron Brooks as of my counting received 277 write-in votes. Many read just as Cameron Brooks, some with Cameron Brooks RIP. Clearly his legacy was noted with individuals simply writing in of his name.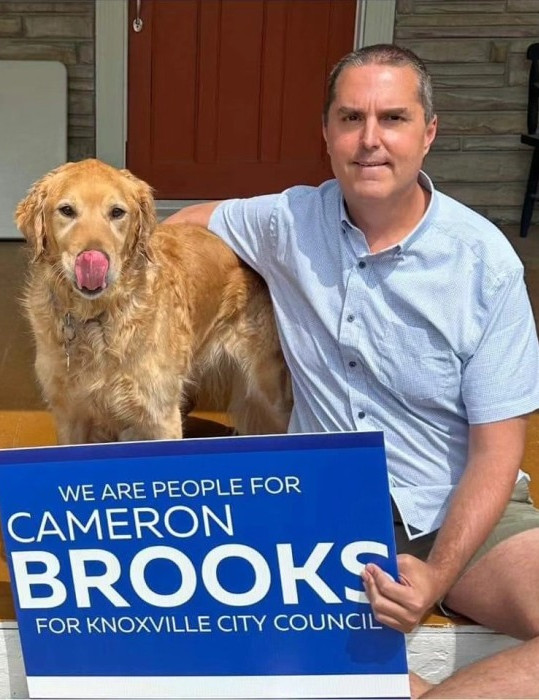 A sampling of the other write-ins for at Large Seat A, Steve Dupree, Chris Davis, Sarah Eldridge, Benny Smith, Bobbie Kray, Darin Worsham, Cameron Cox, John Becker, Elvis, George C Wallace, Christopher J. Oldham, A Conservative, Lila Honaker, sensible person, Hallerin Hilton Hill, Richard Bass, Dylan Mezick, blank, unfair no choice, Bernie Sanders, Ansley Gerheart, Matthew Debardelaben, Darren Thompson, Josh Huepel, Joshua Dobb, Donald Duck, Kathleen Bentley, Tyler Caviness's DUI, Chris Winn, Cameron Sexton, my cat, Lisa Smith, Robert Wayne Wright, Absolutely not, Michael Myers, X, Annie Oakley, Timothy Bowen, Jeff Johnson, Brody Carter, Anyone!, Gloria Johnson, Lebron James, Steven M Greer, Dr. Dolittle, Homeless, Bill Haslam, Best, Matt Morelock, Shawnee Castell Rios, Andrew Dison, Albert Moore, Lynette Purdue, Evelyn C Gill, Dolly Parton, No Confidence, Hasan Husain, Mickey Mouse, Titus E. Williams, Calvin Skinner, Charles E. Thomas, Yosemite Sam, None of the Above, Cortney Piper, Kenneth A. McBride, Gary Grimes, Stephen Backiel, Matthew Best, Bernadette West, Pinky Poorly, Donald Trump, Santa Clause, Daniel Ellis, Laura Suson, Tony Burch, Kimberly T. Smith, Gary Messer, Brian Kaufman, Yvette Wilson, Nick Davis, Jessica Gregory, Martha Boggs, Melanie Barron, Minnie Mouse, Kristen Williamson, Jody Wright, Bob, Mickey Mouse, Constance Every, Gary Messer, Amelia Parker, Jack Neely, Kenneth A Stark, Other, David Watson, John Doe, William Worsham, Phillip Fulmer, Thomas Lynn Tarpy, Sam Maynard, Ron Silvera, John Plummer, Sarah Hite, Bill Bruce, Elizabeth Hill Smith, James W Card, Brown, Erin Parrish, Bob Petrone, Unopposed Unacceptable, Susie Kass, Gary Loe, Jane Roberts, Brad Headrick, Jack Kirkland, Jennifer White, Gregory E. Smith, Anyone Else, David Williams, Kevin M. Blue, Daniel Ellis, Donald Duck, Noah Jones, Greg Smith, Jessica Gregory, Cas Walker, Beth Sherrill, Janet Testerman, Brad Mayes, Kendra Rudder, Joe Bailey, Greg Mackay, Aaron Sercy, Nick Moran, Robbie Pryor, Anderson Payne, Carley Fowler, Greg Kaplan, Robin Knapp, John Scopes, Brook A Saunders, George P. Dodds, Cheryl Baxter, Ronald Williams with a cell phone number, Jaxx Fox, MIke Rowe, Amelia Parker, Josh Smyser, Don't know, Stacey Campfield, Ron Howard, Roger Berg, James Craig, Free Palestine, Conservative David Holmes, A Fence Post, Matthew Park, Andre Canty, Jay Nations, Rebecca Parr, Stephen E. Smith, Wesley Swaggerty, BD McQueen, Cookie, Wesley Swaggerty, Chyna Brackeen, any democrat, Ginger Treece, Larry Harper, William "Bill" Sherrod, Pete Drew, Clarence Dean Burress, Bart Simpson, Zack Wolfenbarger, Sea Bass, Chris Cope, Jessica Copeland, Victor Ashe, David Hicks, Smokey, Sam Venable, Meg McMuffin, Bill Clinton, Laura Lambert, Homer J Simpson, Lori Sumter, Rick Best, Yoda, Eric Ohlgren, Elmo, Michele Ivester, Premier, Mark G. Quist, Bob Booker, Baby Yoda, Jane George, James Coffey, Maggie Longmire, Jenny Arthur, Michael Jordan, Dr. Shiva, Felix Harris, ET, Sara Veri, Becky Ashe, Jesus, Jackson Rouse, Matt Fields, Debbie Ogle, John Weaver, A Pile of Rocks, David Hayes, Worsham, Rusty Odom, abstain, Joe Miller, John Smith, Stacey Sisco, Laura Bryant, Paula Sawyer, Jim Quik, Tyler Childers, Elizabeth Rowland, Eileen Ogles, Lewis Ogles, Glen Jacobs, Dylan Early, anyone that doesn't support Trump, Chris Christopherson, John Gatt, Debra Nesbitt, Patrick Sullivan, Joan Grim, Greg Phipps, David Compton, Barbra Marsh, Gerald Turner, Aubrey Jenkins, Scott Moore, Donde Plowman, Major Wood, Wendy Kirchhofer, a name with a street address, Rick Staples, Jimmy L. Kennedy III, Martin Ammons, Grant Rosenberg, Marshall Stair, Barreck Obama, Charles S. Smith, George Brown, Emily Ellis, Erik Pfeifer, Ham Sandwich, Randall Truesdale, Todd Steed WUOT, Ashland Smith, George Tate, Bill Good, Luna Langston, William Troxler, Candice Halbert, Fred Flintstone, David Crawford, Adeem the Artist, Rebecca Loy, Indya Kincannon, Eddie Smith, Jane Jacobs, Dave Mackey, Jim Andrews, Betsy Pickle, Annie Oakley, Big Bird, Chris Irwin, Bob Thomas, Antonio Hinton, Terry Henley, Guy Jacobson, Leland Murphy, Peyton Manning, Andrew Beamer, Eddie Mannis, Tina Peroulas, Charles H Cannon and God.