In watching CTV yesterday and viewing the Joint Education Committee meeting, I watched and exchange as the meeting concluded and reported it here. I was shocked and surprised when I saw a Facebook post where Ownby is assuming, taking liberties with the fact that a friend of mine allegedly told me what to write.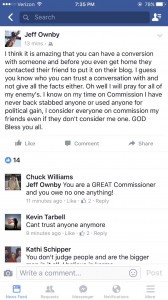 Is my friend Commissioner Charlie Busler, Sam McKenzie, Brad Anders, School Superintendent Dr. James P. McIntyre, Jr., School Board Member Patti Bounds, Assistant School Superintendent Bob Thomas or Law Department Attorney David Buuck? They were all present from my viewing the meeting on the television screen.
I text messaged Ownby informing him that I watched the exchange on television and that he was wrong about someone telling me what to write and I requested a correction. So he posts this in the comment of his public Facebook post.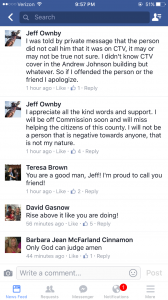 It is quite interesting that Ownby is unaware of the joint education. meeting being recorded in that he has served and is concluding a 6 year term on Commission. He has served on the Joint Education Committee for a number of months and has surely seen the media advisories that detail the meeting is broadcast live and streamed online.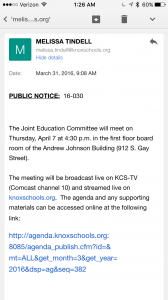 My readers are aware that in 2013 I was served and had to defend a lawsuit challenging information published on this website.  Throughout a lengthy legal process culminating through last Summer (2015), Summary Judgement was awarded to me on 9/11/2015. Ownby was an affiant for the other party. So for him to question my information, my sources and the due dilligence that I put into this website is bizarre.
One theory of why Ownby maybe uncomfortable, defensive with the Sunshine Law violation of he and 6 of his colleagues could be that a second diversion or expulsion of a criminal act could be a problematic defense.
As for the legal defense that took two years, we are still paying for our legal defense. We have a gofundme account where friends and supporters of the first amendment have supported us and if you haven't and would like to, here is where the fund is. If everyone does a little we can retire this debt.