Tomorrow the Elected Republican State Executive Committee will meet to select the next TN Republican Party Chairman. There are three candidates, Brent Leatherwood, Scott Golden and Bill Giannini.
This is a decision for only the 66 elected individuals from across TN. This week the SEC members received an invite to a Holiday Breakfast Reception at Three Brothers Coffee for Giannini. But to the surprise of the SEC members there are 4 State Senators of the 33 Senate body and 10 State Representatives of the 99 House body serving as a host committee.
State Senators Mike Bell, Rusty Crowe (a former Democrat), Ferrell Haile, Bill Ketron. State Representatives Dale Carr, Martin Daniel of Knoxville, Jeremy Faison, Tilman Goins, Dan Holsclaw, (the invite list Holsclaw's name as Dan, I believe his name is John) Dan Howell, Ron Lollar, Judd Matheny, Mark Pody and Mark White.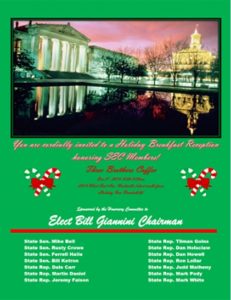 The SEC members are wondering what the 14 members of the legislature would think if the SEC take positions on legislative matters and tell them what to do? Several members have voiced the sentiment that everyone (including 14 legislators) should know their role and stay in it.