Thanks to Independent Journalist Dan Andrews for passing this along, it seems Robert Lawrence Smith a former County Commissioner and an announced candidate for County Commission again in 2018 has posted a photo of himself and some scouts clothed in BSA uniforms.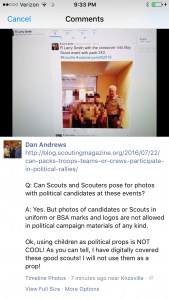 A violation as Andrews found out from a July 2016 Scouting magazine article.
I myself am a 1984 Eagle Scout and I have ALWAYS adhered to the Scout direction on not having the marks, uniforms in campaign material.