The program for last nights Knox County Republican Party Lincoln Day Dinner is below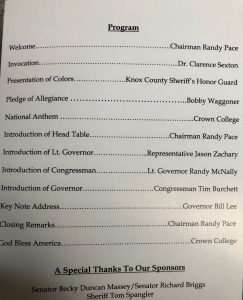 When Rep. Jason Zachary introduced Lt. Governor Randy McNally. Apparently, Dave Wright heard his name. He bolted from his seat at one of the sponsored tables of a weekly tabloid Publisher.
Wright beat the Lt. Governor to the podium and bizarre comments about the former Knox County Mayor being in Nashville recently and gave him with a framed presentment. Wright said he wasn't introducing the Lt. Governor because that had already been done. The Lt. Governor then proceeded to introduce the former Knox County Mayor.